Last week, I stayed with my daughter and her family at the Ronald McDonald House (RMH) because we were all out of town for my granddaughter's surgery. I hadn't had any firsthand knowledge of the RMHs other than they helped families who had kids in hospitals. We all drove over 5 hours to get to this particular hospital where Olivia's surgeon practices and were very lucky that there was a room available for us to stay at the facility in Dallas, TX. My daughter/family got there a day before I got there (there was an early morning MRI scheduled) and I drove up there so that I could go attend the many appointments with them the following day.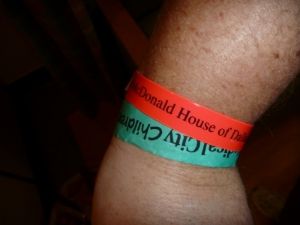 The many appointments beforehand and the long hours spent in the hospital afterwards made the whole experience stressful. Having the blessing of such a place like RMH was amazing! They had volunteers who provided meals during the day (which helped because we had no energy or time to go out) and we caught one or two a day due to our schedule. They had many wonderful benefits for those staying there like washers and dryers (along with the detergent,) places to store your food (cabinets or use of refrigerator/freezer,) playrooms for kids and separate ones for teens, exercise room, library, places for guests to sit and talk, and you could even borrow/rent dvds to watch. They didn't have any televisions but that was no problem as we were so busy going back and forth to the hospital or reading about procedures and/or filling out paperwork.
This is me and Olivia before we left for the many appointments the day before her surgery.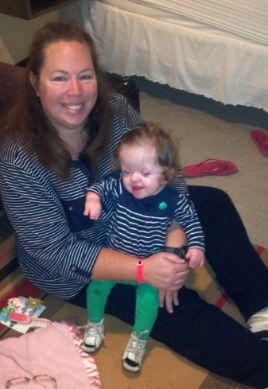 Since everyone there were there for the same reason (did not live close to the hospital and had a young loved one there,) we were exchanging stories and supporting each other. Just when you think you heard a really sad story, someone else's experience was even worse (luckily, our Olivia's condition was a necessary planned surgery and not one needed for a life/death situation or accident.)
I was completely overwhelmed by the generosity of the staff and RMH for us and others like us. I am much more aware of what RMH does and will be forever grateful for their commitment to helping kids/families. And just this week as I left a restaurant, I noticed this gum machine. Now that I am more aware of where the money goes, I will be a lifelong supporter.