We went to the Great Smoky Mountain National Park last week and hiked up Alum Cave Trail to the top. We started hiking up the mountain to the lodge at 8:30am last Monday morning. It was a nice cool morning and we knew we had a long day ahead to hike up the 5.5 miles to get there. We had previously hiked on trails in Arkansas and were a little experienced with the easy trails that were rocky or semi-dangerous. We weren't sure exactly what to expect except what I had read on the lodge site forum (what to bring, how to prepare etc.) Of course, they suggested lots of walking, especially up stairs etc. Since I had injured my knees (one, then the other) within the last six months, I didn't do that but I knew I was could be careful in order to do it. I put on knee braces and used two hiking poles.
This is us at the beginning of our hike.
The first two miles were absolutely beautiful (we walked mostly beside a creek) and it was easy even though it was all uphill (not too steep.)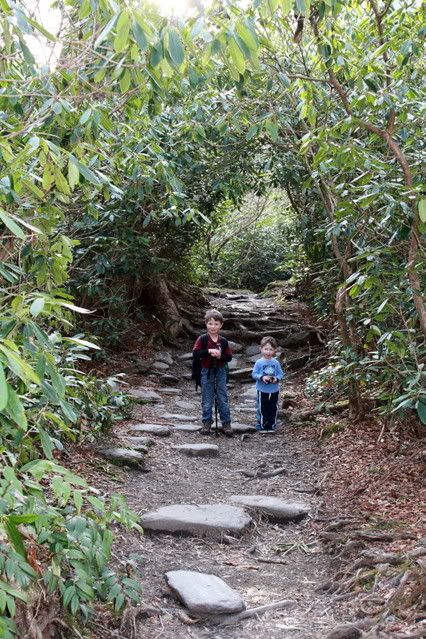 We stopped for lunch for about a half an hour and ended up making it to the lodge at 3:30pm! Initially, we thought C would get in the baby backpack carrier but he wanted to walk so we let him. Hubby walked next to him practically the entire time (helping him up each step or around the next dangerous curve) and the really bonded. As it turned out, C walked six hours (yes, 6!) and we carried him the last hour up to the top. We realized that the last mile was the most dangerous (there were cables to hold so you wouldn't slip down the side or misstep/slide off) so it worked out very well!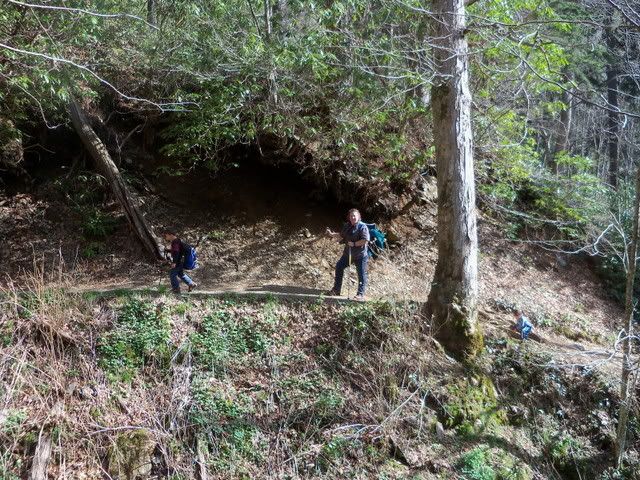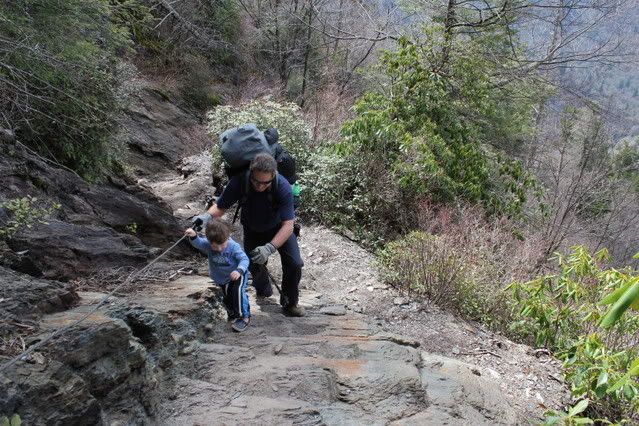 We stayed in a lodge which had three bedrooms. We had one of the bedrooms which included a double bunk bed and a twin bed. C and I shared the twin bed and my brother and nephew took one of the bunks and Hubby and S took the top one. Each cabin or lodge had a porch with rocking chairs. There was no electricity and no showers. Water was available and there were toilets. They provided meals and we stayed two nights. They also had the option of endless wine at dinner (for one hour.)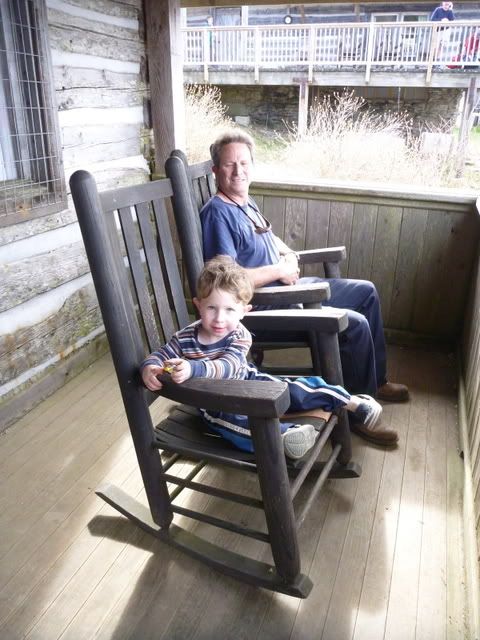 During the night, there was a storm (wind, rain) and then the second day, it snowed/sleeted all day! Of course, us Texans were SO happy! We played in it and walked around a long time! We took lots of pics (thinking that it'd quit snowing at any time) and there ended up getting about 4 inches throughout the day.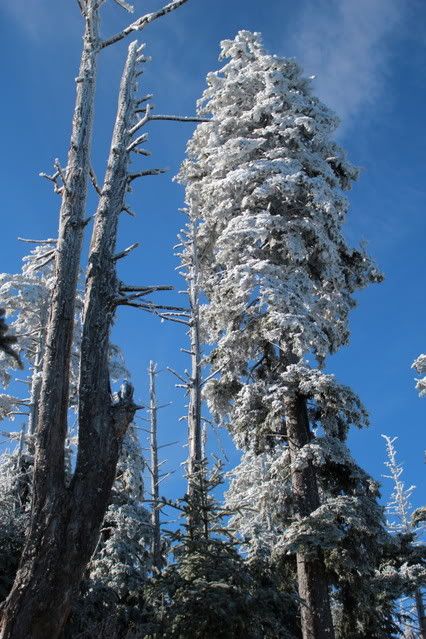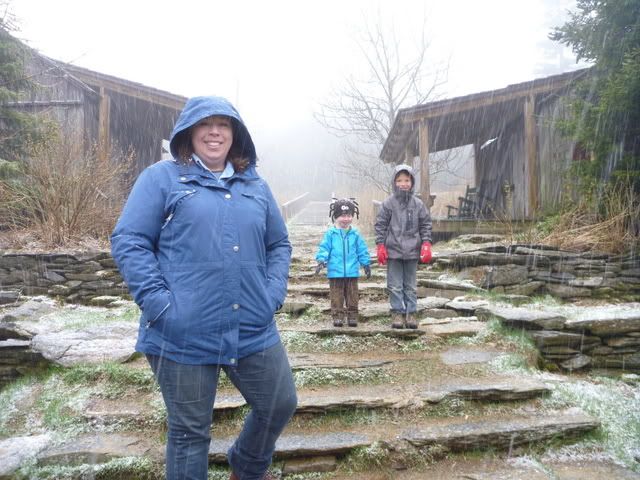 This is the lodge where we stayed.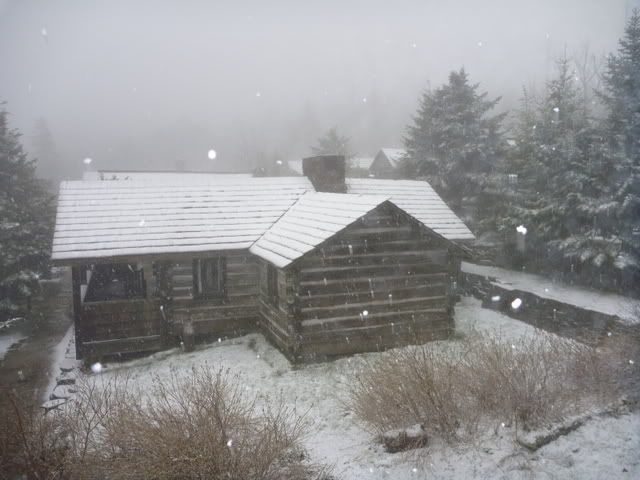 This is all of us in front of the dining room on the second day.
This is the view from our front porch (Gatlinburg in distance.)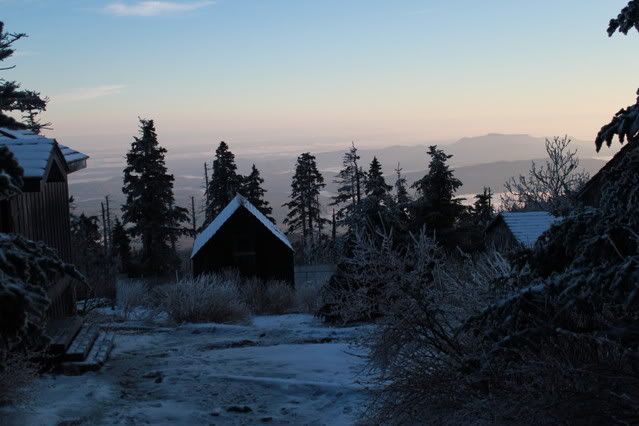 On the third day, we hiked back down. It took us five and a half hours. Most people probably go down faster but we walk at 3 year old speed, lol! I carried C down the first two and a half hours in the backpack and he walked the rest of the way.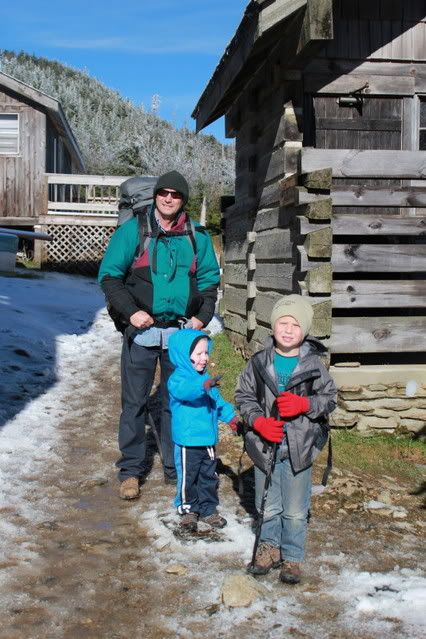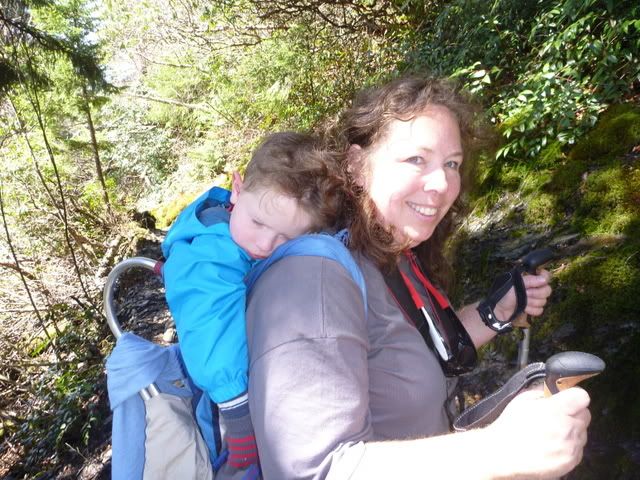 On one part of the trail, it was really scary. There really was no trail, you had to hold on to the cable because the rocks were angled down (and it and most of the trails were bluffs with no bottom in sight.)
From the other side.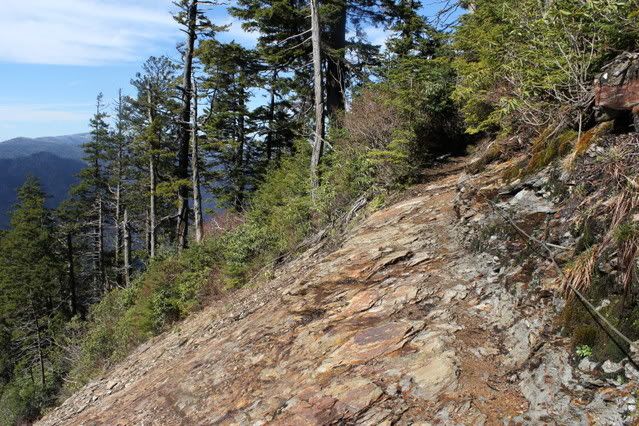 The view from there.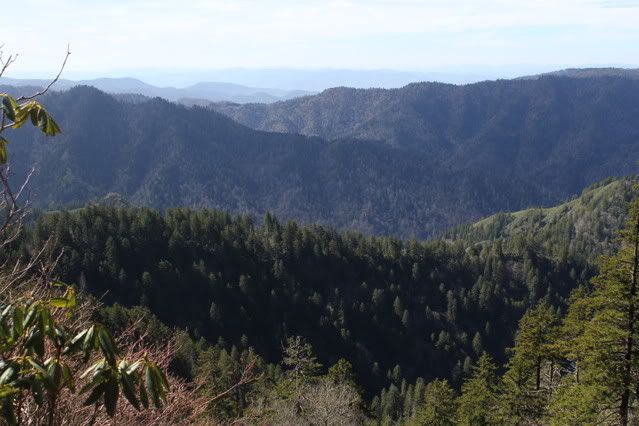 A section of the trail (see how narrow it is!)
There were cool footbridges too.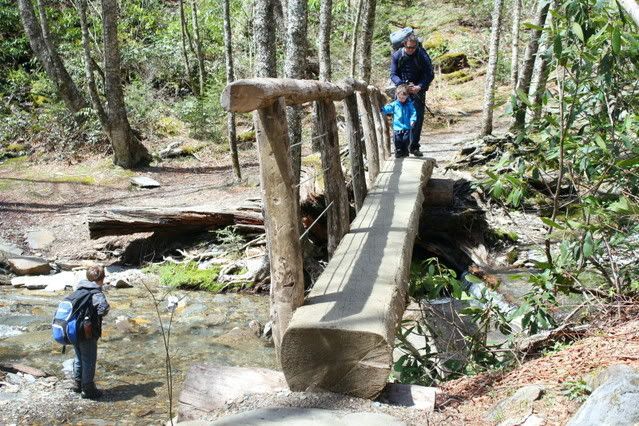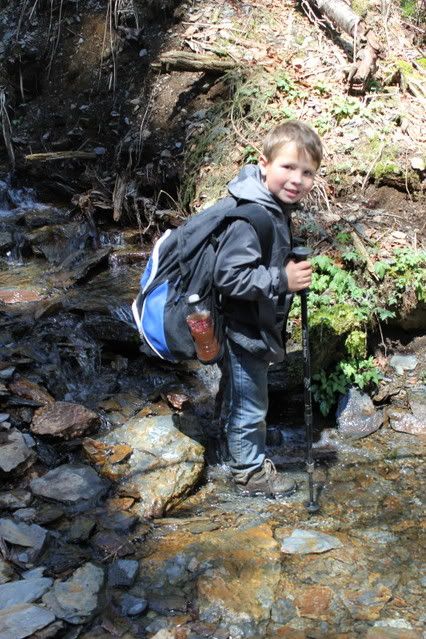 We're really sore right now, lol! The kids were absolutely great! S carried a pack 90% of the time (except for the last little bit to the top) and stayed right with us. C was a trooper!! My brother/nephew like to go fast and had to wait for all of us and I was like the tortoise….slow and steady! Such an awesome place...I loved that I shared it with my family and my brother (and nephew.) Definitely the most physically challenging thing I have ever done! It was such a great experience!!!