We made a list of things to do for the summer. My kindergartener and I thought of many things that would be fun. He didn't realize that I was meaning that we'd do those things during the ENTIRE summer, not as soon as possible! So, we've done many of them already...and are adding to the list. We went to a local huge waterpark last week and did what my preschooler has been wanting (stay in a hotel.) My younger daughter and her friend, my boys, a friend and I all went for the afternoon and all next day and had a great time!
We also ate at my kindergartener's favorite restaurant in the whole world: Rainforest Cafe. Of course, we had to take a picture in front of the gorilla.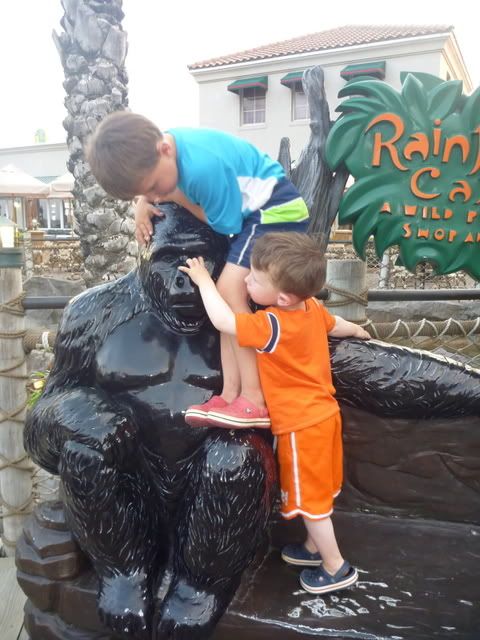 The boys loved seeing the robotic alligator.
And the kids had to try on the hats inside the gift shop (in which we wandered around for the 55 minute wait until a table was ready.)
My friend wanted to ride the slides (I really liked the lazy river that led up to the rapids or huge waves) so we went on one many times. It was a huge round float that we all fit in. Here is my kiddo waiting in line with us.
I spent a lot of time in the middle of an innnertube just floating around. Here is my preschooler in the other side of the double tube (it doesn't have a hole and is made for little ones.)
And my younger daugher...she was such a pleasure to have around and was a huge help with the kids.
We stayed all day and here is my kindergartener less than two minutes after arriving home (he slept most of the way home too.) He was really tired...and was sleeping with his new friend, Troy, his alligator that we bought at the Cafe.