We've been making daytrips lately while enjoying school being out for the summer. One of our favorite places to go is Galveston. I invited a friend to go with us (she always says 'yes' to invitations and, because she has a few boys that have already grown up, she's not scared off by my boys!) The boys love riding the ferry across the bay to the island. We stood in the front of the ferry feeling the wind on our faces...it didn't seem as hot that way...and watched for dolphins. We saw about five! Interestingly, on this day, probably because there were so many people because it was summer, when dolphins were spotted, you could hear the 'ooh' or 'awww' or some other noises depicting excitement! It was awesome to hear and experience.
We arrived shortly after lunch so we went to a restaurant along the wharf near the port. I let S pick the place and it was really nice. Of course, I ate shrimp, my favorite! ( I asked S to take this picture.)
C, my preschooler, was so happy that the lobster tank was right across from our table and visited there many times!
Right outside the window at our table was the Elissa, one of those ships you can tour. It was awesome to see such scenery! Beyond it were dry docks where ships and drilling rigs were being rebuilt. I loved watching the seagulls flying around as well as the fish nearby (their mouths were obove the water searching for food.)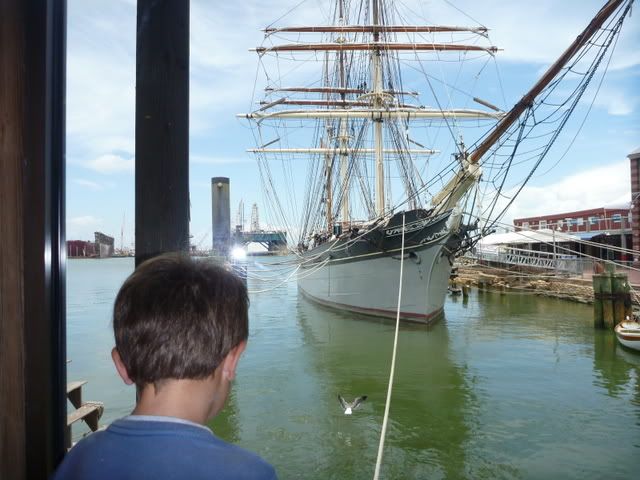 After lunch, we went next door to see a short film on The Great Storm, the 1900 hurricane that devestated the city. It was amazing! I didn't know how much effort it took to build the seawall that still exists as well as the city having to raise itself up to 13 foot in some places in order to survive future hurricanes. Walking along the stores on The Strand (an area where there are shops nearby) would have been less stressful without kids so we moved on to the beach to enjoy the afternoon stress-free.
We brought along digging toys and the boys had a great time. S found two little crabs and found many tiny shrimp that were left after waves returned to the Gulf.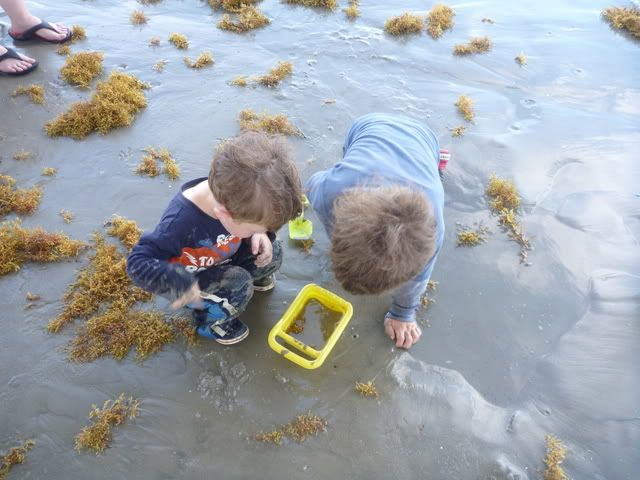 S loved running through the waves! C felt comfortable splashing water on himself. Behind him stands the Hotel Galvez (which celebrates it's 100th anniversary this year.)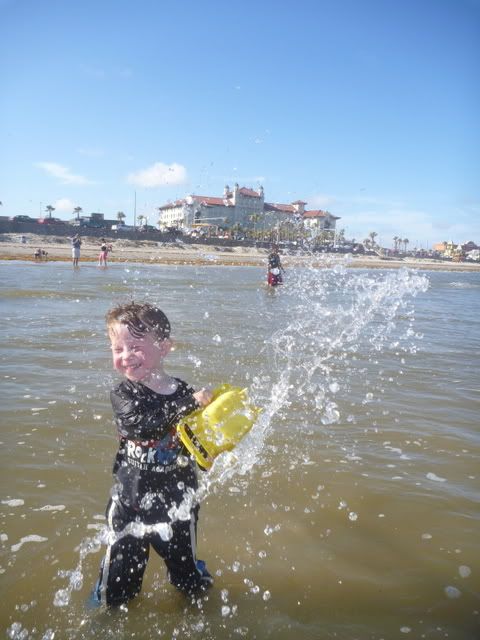 All in all...it was a really nice day.