I spent the Fourth of July at my sister-and-law's house. My hubby loves to go there on every Fourth because it's his favorite holiday! Both he and my SIL love to shoot fireworks! Since she lives at the bay, the fireworks are done at the end and they is seen from all over. Even the neighbors sit out just to watch the display that they put together.
While waiting for the next firework to go off, my youngest son exclaimed, "Fireworks make me happy!" My SIL said that it made it her the same way! It was a good day! Here are my feet as I was sitting on top of the picnic table on the balcony of their house waiting to see the colors in the sky!
We stayed at SILs for about a week. It rained some, it was sunshining some; relatively cool for what it feels like most of the time there during the summer. My older son and hubby went swimming in the bay. It was really salty (when it rains a lot, it's less salty, and it hadn't rained much.) My younger son didn't want to swim in the water where he couldn't touch or see the bottom. He stood at the side watching them swim. He also shared some songs for me while we were watching them swim. He has a cute little voice (barely audible most of the time.)
We returned on the day of my daughter's birthday. I picked up her favorite 'birthday cake' and took it to her. Of course, it was a large chocolate chip cookie that you get at the mall that had 'Happy Birthday' to her in purple icing. While we were at her boyfriend's house (where she lives,) we hung out for a while and talked.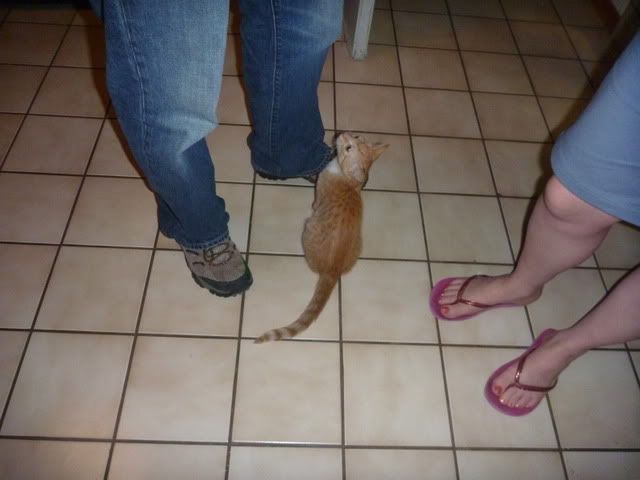 These past few days, it's rained and rained and rained and rained!!! It's not surprising that it rains (it will rain a little each afternoon in the summer sometimes because we live in a humid coastal area near the Gulf of Mexico.) But, lately, it's been three or four inches a day and lots of thunderstorms. My kids have been loving 'swimming' in the giant water/mud puddles. I go out and watch them a lot and take gobs of pictures! But I wear my rain boots so I don't get my feet wet. While the boys get rainboots often (because they wear them out,) this is my very first pair.