This weekend has been fun! The weather is great (almost too hot - the air conditioner has definitely been on) and we've been outside a lot. Yesterday, we opened up a gift we received from my aunt (for the boys) at Christmas. It turned out to be a huge ball you can ride in (there was no description on the box but it looked big so I waited for decent weather to open it.) The neighbor kids came over and all the kids took a turn in it! Well, the toddler didn't but he did get inside and look around.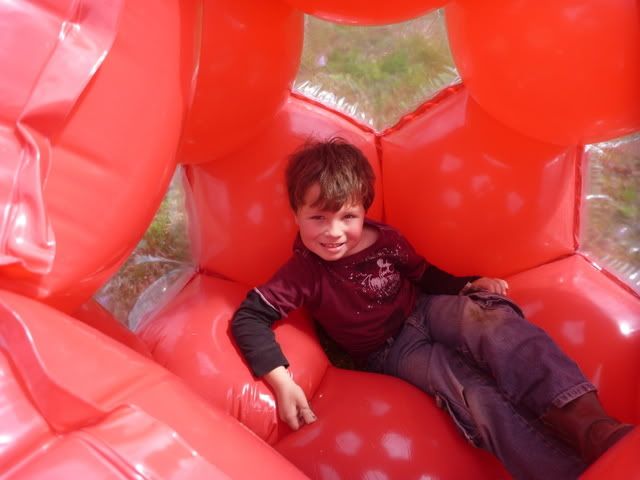 (in mid roll)
We also jumped on the trampoline. This is my neighbor jumping with my toddler. (Her kids were playing in the sand next to us.)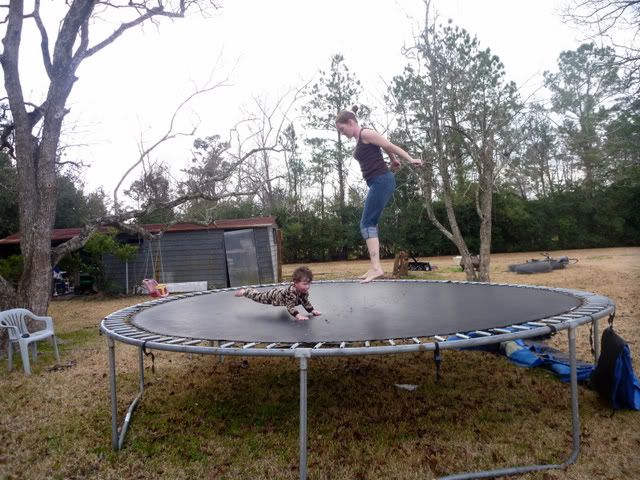 My toddler stayed on it a really long time!
Later on, I went to see a movie with a friend. We saw Unknown (with Liam Neeson) and I really loved it. I like those dramas with mysteries and adventure.
Bright and early this morning, my kindergartener said he was going outside hunting (with his plastic nerf gun.) He came back in a few minutes later and said that he didn't realize that we had raccoons around here. I asked about how he knew that and he insisted I follow him. When I did, he showed me the tree (and there was his tiny stuffed raccoon sitting on a limb.) It was precious! I ran back in to get my camera and by the time I returned, he had moved 'Ricky Raccoon' but was still in the tree. So, I snapped a pic.
At lunch, my kindergartener begged to go to a nearby Chinese buffet. I really don't like them (as I don't eat enough to cover the amount of money I spend there) but he asked so nicely. We went and he enjoyed two plates of crawfish. This is him sucking the head of a crawfish (he is finishing his second plate.)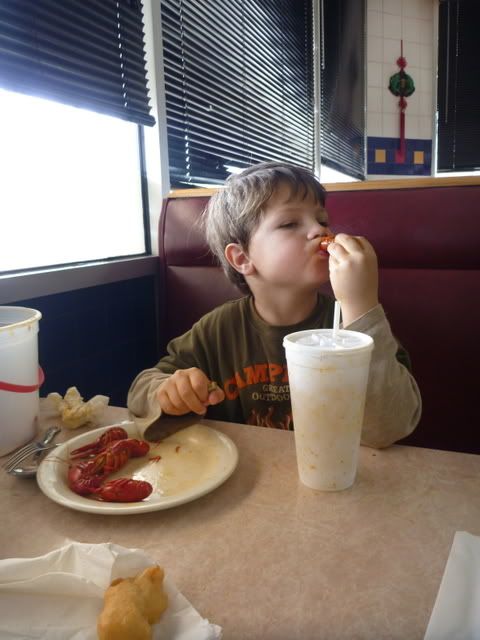 After lunch, we returned home and I put my toddler down for a nap. Ten minutes later, I went to check on him. He had pulled all the sheets off of his mattress and looked like this when I saw him. Well, technically, I peeked through the crack of the door, saw what he was doing and came in with a camera. I have seen him do this before (but hadn't confronted him on it) so it was a good time to remind him what he was supposed to be doing in there. So, I closed the drapes, put the sheets back on and tucked him back into bed.
He slept a good three hours today (enough time for me to upload pictures, check my mail, and read the newspaper.) I even cleaned the kitchen and living room (I just love a clean house!)