Just as my hubby and I arrived in Hawaii and were met by my brother, he mentioned the activities he and his wife had planned for us that week along with taking us mountain climbing. I initially thought he meant hiking on top of a mountain but was surprised to learn that he meant actually climbing up the side of a mountain. He has been mountain climbing a lot lately (as part of his job on occasion) and his place of employment had all the equipment we could borrow. I am afraid of heights but the idea seemed exciting. Since I didn't have to worry about having kids with me and the fact that he mentioned his wife also being concerned since she had not yet done it either, I figured it'd be a great adventure. It turned out absolutely wonderful! We spent about four or five hours climbing up and then back down the mountain. It was totally awesome and I'd love to do it again!!! The only thing I wish were different were the little annoying ants that climbed all over you as you climb. There were SO many red ants (that did not bite) that could crawl on your fingers and hands and arms as you climbed. You'd have to fling them off before they got further up your arms or legs. Before we started up the trail to the first leg of our climb, my sister-in-law took a picture of my hubby, my brother and me. In the background is the valley between the two mountains. That's where we climbed up.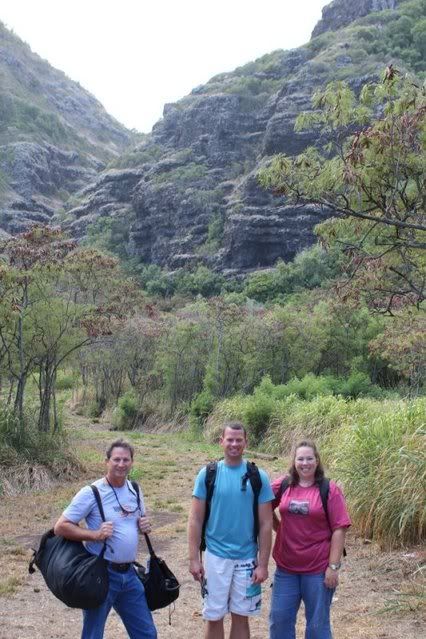 My hubby was the first one. We were using a prusig which was a sliding knot tied to the rope that we used to pull ourselves up and also to our caribiner connected to our rope (from our harness that we wore around our hips/legs.)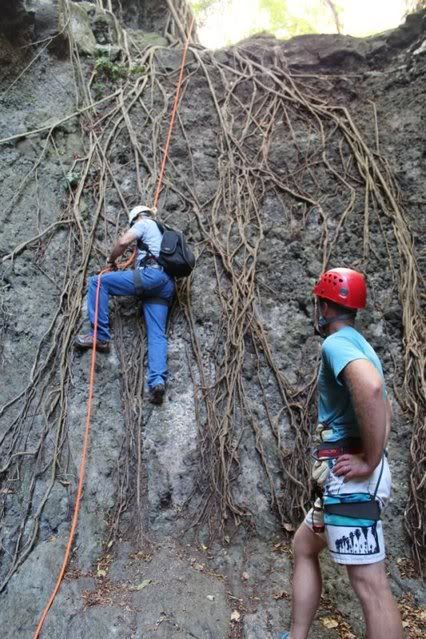 I just love this picture as my hubby nears the top of this wall. The tree at the top has it's roots going all the way down and they're firmly attached. It's so high up that it looks like he's entering a hole up toward the sky.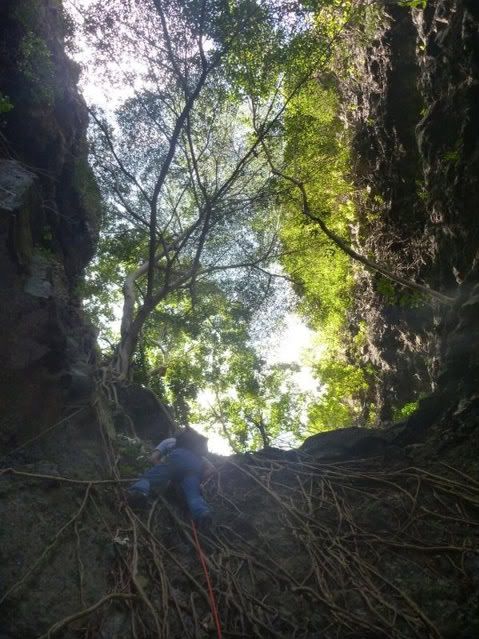 And, of course, here's me climbing up. We all had to stop and pose for a picture. The whole way we're climbing, we're getting lots of support as the other three are helping us find a spot to put our foot or fingers or remind us what we should be doing to make it easier.
Here's a spot where I stayed at the lower area a little while as the others moved up just to take a picture showing how high we were climbing and what it looked like with all the ropes, cables, or scary areas.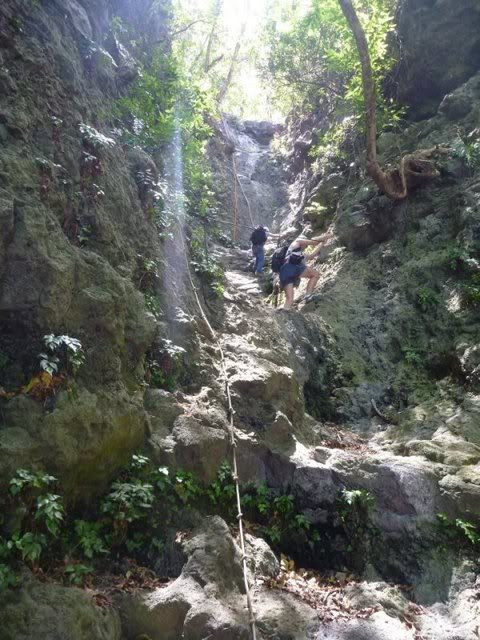 Even though I did really well on all the really scary places where I should have been scared, I freaked out right here. For some reason, I couldn't find a place to put my feet and felt like I were going to fall. I just got stuck. At this particular moment in time, my brother is encouraging me to lean back and extend my arms because even though I can't tell, there are more places to put my feet. If I did that, I could then continue vertically to get through this spot. I ended up attaching my caribiner to the rope as a back-up and finally leaned back. When I did that, I moved right through it. At one point, I remember saying that I felt like crying because I was so frustrated and scared. After I conquered this challenge, I felt like I could do anything!
The biggest wall we climbed was the last one. This picture shows my sister-in-law going up first (well, actually, my brother had to climb up first to tie off the rope for us to use to climb up as he belayed, or supported the rope with us on it in case we fell.) She did so well the whole day and I loved being able to do this with her. My hubby uses this kind of stuff in his job so this was not new to him as was my brother. But for us girls, all this was new and kinda scary. I loved the 'peer pressure' because I felt that if she could do it, I could too. She loved it so much that she went up this wall twice! She had a lot more energy than I did!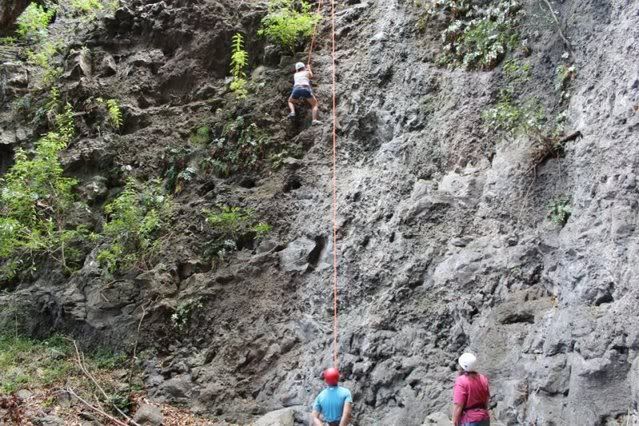 This is me climbing.
This is a picture of my sister-in-law going down. As difficult as it was going up, it was even scarier going down. Off this edge, you had to walk off backwards...and while leaning back the entire time. If now, you'd swing forward and be flung against the mountain rock. So, I had to literally talk myself down slowly. It was nice having the others help as well. At one point, my brother reminded me to keep my legs square with my shoulders. At another, my hubby encouraged me to lean back. My sister-in-law was also supportive letting me know how great I was doing. I finally got over this edge too and even got to the point where I could 'bounce' off the wall near the bottom.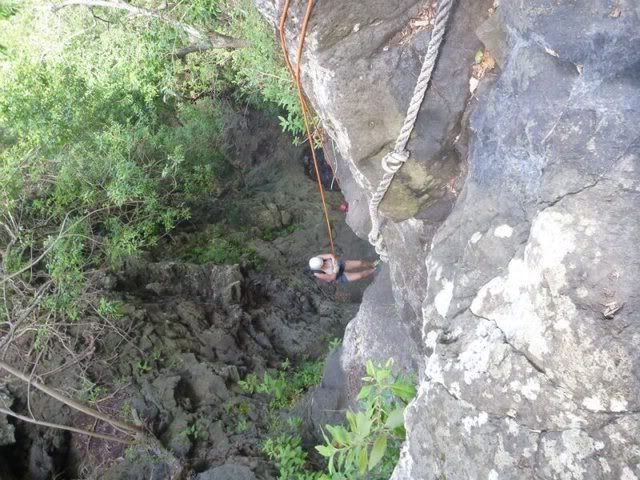 Here's a picture of my brother and me. Halfway up, there was a spot where you could see the ocean in a distance. So beautiful!