Last weekend, we visited my SIL who lives on a bay. We always enjoy going there and hanging out. This particular time, their bulkhead (the area where the water meets the dirt area on their property) was being rebuilt and my preschooler was hanging a great time on the CAT bobcat that was left behind. The owner of the equipment actually came by and gave him a ride and lesson in driving it. Talk about hanging a great time!!! He really loved it!
We enjoyed playing peek-a-boo! The toddler kept peeking from behind the wall and cackling afterwards!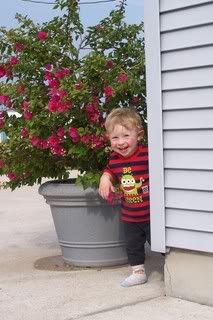 Going treasure hunting at the boat dock area. He rode his bicycle with one training wheel down there and then carried his shovel all around looking for something good. We kept singing Pirate songs, especially one by The Backyardigans, and saying Aargh!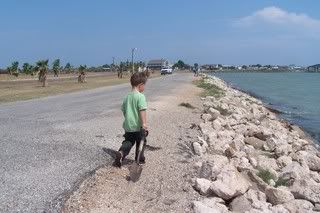 At night, we enjoyed fishing on the pier. Only one was caught and it escaped before being brought all the way up. At night, we turn on the lights to warm up the water where the fish congregate so we can catch them easier. On this particular night, there was no wind and all the insects swarmed under the lights.