My hubby's birthday was a couple of weeks ago. He was at work offshore when it occurred so we celebrated it when he came home. On the morning we were to celebrate it, he woke up to a surprise birthday cake made by our daughter during the night (strawberry with strawberry icing.) I had planned on making a cake he really liked that day but decided against it after seeing she had made him one. At some point during the day, I mentioned to him about not making the other planned cake and he remarked that strawberry was his favorite. I was surprised to hear that and asked him about it. He then said that his favorite cake is one that his children made for him. And then he said that it wasn't about the gift, it was about the giving. I smiled really big...that's why I love him.
This is him just before we celebrated his birthday.
Here is most of us who were there. The daughter who made the cake refused to be in the picture...she's still a teenager, lol! My other daughter's boyfriend (on the left) cooked all the chicken for us. My brother and his kiddo is on the right. Of course, my boys are in my hubby's lap.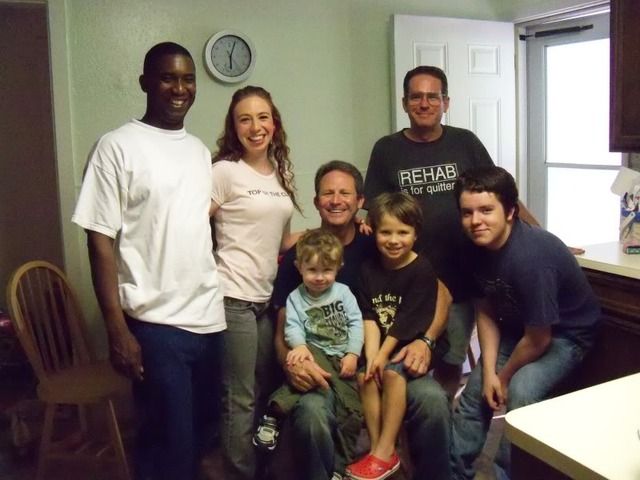 Here is a pic just before he blew out the candles (it's not really on fire...it has four and then nine candles for his 49th birthday.) I sneaked a pic of our other daughter sitting on the counter behind him (the cake maker.)